A pulse-pounding cyberpunk thriller by Alexander Irvine (The Narrows) and Lan Medina (DEATHLOK: THE DEMOLISHER)! The future belongs to Tony Stark. So when a violent heart attack pushes the billionaire playboy and visionary inventor to the brink of death, he's not about to go down quietly. Enter Stark 2.0 - a fusion of man and machine unlike anything the world has seen before, an entity that will push its host past the brink of sanity as it attempts to recreate the world in its own image. With Stark Industries in lockdown, it's up to Starks's associates Pepper Potts and Jim Rhodes to stem a technological virus that might well contaminate the entire world. But to save the day, they'll need Tony's help - if, indeed, there is anything left of him.
Covers, as you can see, by Tim Bradstreet.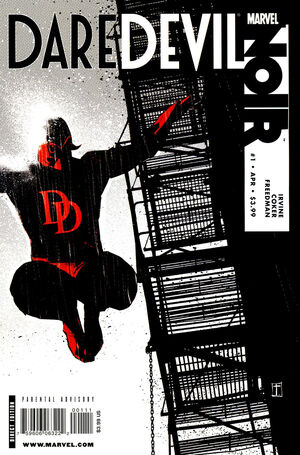 It's one of the first lessons you learn in poker, and you usually learn it the hard way: Play poker with a liar, and you can lose your money, your house and even your heart. And in a town where justice is a game, blind Matt Murdock is about to learn that lesson all too well. Welcome to the cycle of violence, Daredevil. It was here before you were born into this dirty city, and it'll be here after you're six feet under. And in the Great Depression - which has Manhattan and Hell's Kitchen in its grip - you've got your part to play in it. And that part means going through the Kingpin!
Killer art by Tomm Coker and equally killer alternate covers by Dennis Calero.
When the Son of Satan is your best option, God help you. New Orleans. The Big Easy. The membrane between our world and the underworld has always been a little thinner here. Now, in the aftermath of Hurricane Katrina, the outpouring of human misery has drawn demons like sharks to a bloodbath. What better time for Daimon Hellstrom ? a.k.a. the Son of Satan ? to pay a visit? It starts with the doctor who delivers a baby that vanishes into the night. A doctor who is devoured by demons wearing New Orleans P.D. badges. Demons who work for someone ? or something - -that?s descended on the Big Easy and doesn?t give a damn who Hellstorm or his father is. Something that?s harvesting body parts in a furious race toward unspeakable purposes. This is the Son of Satan as you?ve never seen him before, brought to you by acclaimed novelist Alexander Irvine (The Narrows), with searing art by Russell Braun (Animal Man) and Klaus Janson...also covers by Arthur Suydam.
The post-apocalyptic DUNGEONS & DRAGONS setting gets its first ever comic! Beneath a crimson sun lie wastelands of majestic desolation and cities of cruel splendor where life hangs by a thread. Welcome to Athas! In Part 1 of 'Ianto's Tomb,' a runaway gladiator and part-time slave hunter cross swords, forever entwining their fates on this savage desert planet. The next four issues see Aki and Grudvik braving the dangers of Tyr both above ground and below...
Art by Peter Bergting, covers by Andy Brase (so far, more to be revealed...!)
The Murder of King Tut adapts best-selling author James Patterson's New York Times bestselling novel in this exciting new series. As we visit the Egyptian landscapes back in the time of the Boy King (with art by Christopher Mitten), we also follow the trials and tribulations of his discoverer, Howard Carter, as he searches tomb after tomb looking for what most other archeologists are certain doesn't exist, the Tomb of Tutankhamen and the clues to his controversial and mysterious death (art by Ron Randall)!
A 5-issue miniseries with beautiful alternate covers by Darwyn Cooke.
For more than 70 years, DC Comics has been entertaining children and adults alike. Here, for the first time, is the chronological account of the adventures of both the characters and the company that created them.
The
DC Chronicle Year by Year
traces DC's fascinating story: the company's beginnings as National Allied Publications in the 1934, and its subsequent change to Detective Comics, Inc. in 1937. The book details all the major DC publishing landmarks and more, displayed clearly, month by month.
Highlighting the debuts of Superman and Batman, the geniuses that invented them, and the real-life events-like the Vietnam War, the atom bomb, the Space Race-that shaped the atmosphere of the times,
DC Chronicle Year by Year
follows the characters' foray into the real world through TV series and blockbuster movies.
Features original cover art by well-known DC artist Ryan Sook and a foreword by Paul Levitz, who was president of DC Comics from 2002 - 2009.
Cover by Dave McKean. Introduction by Neil Gaiman. With in-depth descriptions of titles such as The Sandman, Fables, V for Vendetta, Preacher, Y: The Last Man, and over two hundred more, this first encyclopedic treatment of Vertigo, DC Comics' innovative imprint for mature readers, features original cover artwork by acclaimed Vertigo artist Dave McKean, plus comprehensive profiles of such visionary writers and artists including Neil Gaiman, Garth Ennis, Grant Morrison, and Bill Willingham.